Top 100 MBE Press Release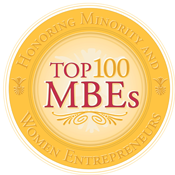 Top 100 MBE Press Release
Walker Benefit Services, LLC Recognized Among Top 100 Regional Minority Businesses
Glyndon, MD (October 21, 2010) – Walker Benefit Services, LLC is proud to announce that Carl and Courtney Walker, President and Vice President, have been selected to receive the prestigious Top 100 Minority Business® Enterprise Award. In its fifth year, this program is designed to acknowledge and pay tribute to outstanding women and minority business owners in Maryland, Virginia, Delaware, Pennsylvania and the District of Columbia. The awards ceremony took place at the Inn and Conference Center at University of Maryland University College in Adelphi, Maryland on Thursday, October 21, 2010
A panel of distinguished judges chose Walker Benefit Services, LLC from five thousand nominations. Selection was based on entrepreneurs who demonstrated outstanding achievement in four key areas:  entrepreneurship, client satisfaction, professional, and community contributions. This year's ceremony sponsor organizations are:  The Center for Business Inclusion and Diversity (CBID); the University of Maryland University College (UMUC) Southwest Airlines; HMSHost, PNC Bank, the State of Maryland, and greiBO media.
"Walker Benefit Services, LLC is honored to be recognized as one of the region's Top 100 minority businesses," said Courtney Walker, Vice President of Walker Benefit Services, LLC. "With more than 15 years of service in the Mid-Atlantic region, Walker Benefit Services, LLC is committed to providing continued top-notch services to our clients through strategic and innovative practices."
Walker Benefit Services, LLC, based in Glyndon, MD, assists large, municipal, and private sector clients to address today's benefits challenges. There are no "one size fits all" solutions to the complex problems facing employers today. The benefits arena, in order to operate optimally, needs constant review and anticipation of future problems and solutions.  We begin each client project with a clear understanding of the objectives and expected outcomes.  In order to accomplish this, we need to know our customers completely.  Our initial task is simple, "Know thy customer."  We hold this as a basic tenant in all of our client engagements. Once our customer research is complete, we can begin to develop the custom solutions and services to meet our clients' needs.
"Walker Benefit Services, LLC represents the best of what our region's minority business community has to offer," said Sharon R. Pinder, CEO of the Center for Business Inclusion and Diversity and founder of the Top 100 MBE® Awards Ceremony. "This award is the culmination of sacrifice, dedication and hard work and will inspire future minority business entrepreneurs to strive for the same level of success."